Oh, Darcy.
I just finished reading 465 pages simply because I am in love with a literary character created more than 200 years ago. Furthermore, "Mr. Darcy takes a Wife" is basically a smut romance novel wrapped in familiar literary characters. Yeah, total shit. And, I enjoyed every single smutty word.
I know I am not alone in my mild obsession with Jane Austen's "Pride and Prejudice" and Fitzwilliam Darcy character. I have read all of Austen's books and seen every movie adaptation as well. There is no character I love more than Darcy.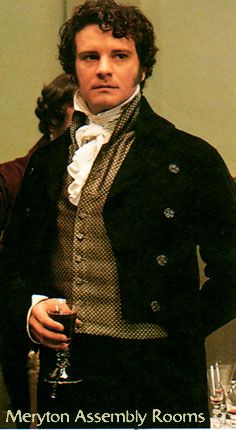 What is so great about this guy?
I have (sadly) thought about this a lot. Darcy is haughty, mysterious, proud, wealthy, handsome, gets what he wants and apologizes rarely. He embodies the "I know I could change him" ideal that plagues romantic life (for centuries, apparently). And, though he doesn't have to say it, it is clear that in the truest sense of the word, he is a gentleman.
The fact that Collin Firth (pictured above) also played Darcy in the A&E version of the book as well as the Darcy character in Bridget Jones's Diary also is helpful in furthering a Darcy infatuation.
What is even more amazing to me is that this Darcy character was created in the mind of a spinster. Austen never married, was most likely never in love nor had much contact at all with the other sex. This is quite apparent in her stories as most of them deal with the courtship and two people changing enough to find each other with the last two pages on the actual "love part."
Though Austen did not know sex, she knew her sex. Her female characters are searing to females and even those who are more redeemable often have many flaws. Her male characters are usually relegated to simpler types (good, bad, mysterious or indifferent). However, Austen took a lot of care with the Darcy character. She made us hate him at first, then suddenly desire to change him. "Sure he's an asshole," she's saying, "But wouldn't it be great if such a conceited jerk wanted you? What a compliment. You can totally change him."
Of course, I would not want to change Darcy. I like his tude and how serious he takes himself and life. I also like how much he loved Elizabeth (his love interest of which many are wildly jealous). He first hated himself for liking Elizabeth (that's hot). He fought against his feelings and even tried to stay away from her (also hot). Finally he admitted his feelings to her in the most rude manner ever and she rejected his proposal. After straightening out some miscommunications, he performing some heroic deeds on behalf of her obnoxious family and her seeing his phat Pemberly pad, by God he got her. And it was heaven.
I am not sure what it means that I am so into Austen and particularly, the romance of Elizabeth and Darcy. Or, why someone as cynical and emotionally detached as I purport, has such a serious obsession with this gentleman from a book written hundreds of years ago. Maybe it is nice to see a gentleman who is handsome, honorable, forthright and goes after what he wants. Maybe I am just destined drink bottles of wine alone with my 10 cats and long for something that probably would not even make me happy in the first place.